What do you get when you find the most delicious, luxurious chenille yarn on clearance and the Star Stitch for the double-knit loom?  You get this pretty, lacy, unbelievably soft and surprisingly warm wrap.
And what's more?  It's so quick and easy to make!
As I cruised the aisles of my favorite yarn shop, I stopped at the clearance bin and found this beautiful chenille yarn.  Still pricey, I decided to throw caution to the wind (I just can't resist beautiful yarn AND a sale) as I thought this yarn would make a beautiful wrap.
We all have our favorite loom, mine being the Knitting Board with the metal pins.  However, I wanted a more lacy look so chose the 28" Knitting Board with Plastic Pegs loom, (a plastic loom would work just as well), as I wanted the pins to be farther apart to create a more lacy look.  Here are the instructions to create this little wrap of luxury.
ICY-BLUE CHENILLE WRAP
By Christine Cavagnaro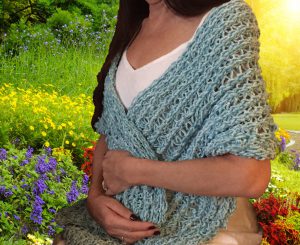 FINISHED MEASUREMENTS
63" X 10" (or as desired)
LOOM
28" Knitting Board with Plastic Pegs
GAUGE
Not important
YARN
Chenille yarn, approximately 480 yards
(Sample:  Touch Me by Muench Yarns)
NOTIONS
Loom hook, crochet hook
Instructions
Cast on 26 stitches using the Stockinette stitch cast-on method.  Continue working in Stockinette for one more row.
Switch to Star Stitch and continue until wrap is desired length.