Most people think that to create a fun double-knit heart pattern, you have to be an expert loom knitter. But that's not true.  Creating a project using a pattern is much easier than you think.  Let's take a look:
Here is a cute heart pattern, just in time to make a project for those you love.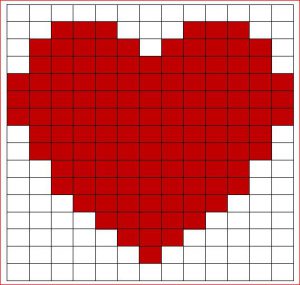 Each block in the pattern represents one stitch.  The red blocks represent the red stitches we will knit to create the heart pattern.  Viewing the chart, we will work from bottom up.  Mark on your loom where you would like the first stitch of the red heart (I just used a penciled "X" on my loom).  In this pattern, you'll want to always wrap your red yarn first in the row, then follow with wrapping the white yarn.
To start the red yarn, fold a loop at the end of the new yarn and pull it under a stitch in between the front and back pins of the board using a crochet hook.
Tie the new yarn into a knot.
Wrap the red yarn clockwise around the back pin and again around the front pin.  Lay the red yarn to the left of the back pin so it hangs off the board (temporarily).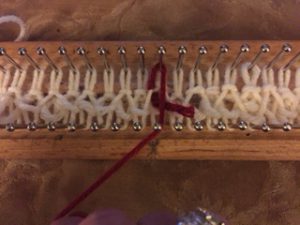 Now wrap the white yarn in the stockinette stitch as normal, skipping the pins with red yarn.  Hook over.
Following the chart, the next row will have three pins wrapped with red yarn.  Taking the red yarn, wrap the back pin to the left of 1st red pin clockwise, down to the middle front pin and back to the pin to the right of the 1st back pin wrapped in red.  Continue wrapping the red yarn in stockinette stitch to complete the red portion.  Now wrap the white yarn in stockinette stitch, skipping the red yarn portion.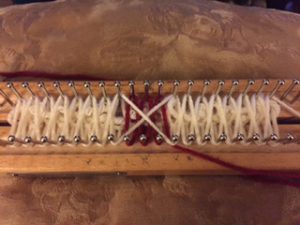 Hook over.  Continue wrapping the red yarn then white yarn, following the pattern.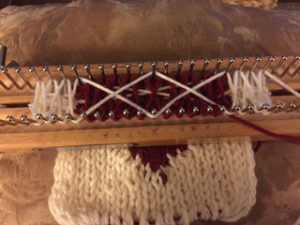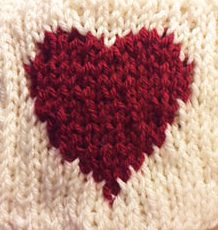 Once completed, you will have a heart on both sides of your project.  Knit a scarf with hearts all along the way for your favorite Valentine!  How about a baby blanket with pink or blue hearts throughout?
You can follow this pattern wherever you would like to add a heart to a favorite project.
Once you understand how to use a pattern, you can move forward with confidence – and making this pattern is a great start for any loom knitter! But as you can see, this really is just the tip of the iceberg.