Let's get the plaid out!  Or, at least, create some.  This pattern is so easy and the yarn so luscious.  It really comes together quick, too.  Can't you see a scarf on the men (young and old) in your life?
I used the super-affordable Brava Sport yarn from Knit Picks for this in Red, Wine and Black.  

Start with a Stockinette cast-on then switch to the pattern, repeating until your desired length.  You can also switch up the colors.  Try dark and light blue or dark and light green but always make sure to add the black to make it truly plaid!  
Be sure to post your creations in the comments below so we can all oooh and aaah over your fabulous plaid creations.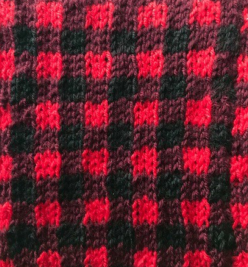 Happy Looming!