Bring a little luck into your projects by adding this darling four-leaf clover design.  One of the greatest benefits of double-knit loom knitting is the ability to add beautiful designs easily to any project.  So, let's get started!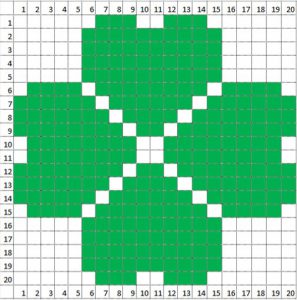 Download graph here.
Each block in the pattern represents one stitch.  The green blocks represent the green stitches we will knit to create the clover pattern.  Viewing the chart, we will work from bottom up.  You'll want to wrap your green yarn first in the row, then follow with wrapping the white yarn.
In this example, we loom knit 5 rows of white in Stockinette stitch.  To start your pattern, fold a loop of the green yarn at the end of the new yarn and pull it under a stitch in between the front and back pins of the board using a crochet hook.
Tie the new yarn into a knot.
Following the pattern, wrap the green yarn clockwise around the back 7th pin of the pattern, wrapping in Stockinette stitch around the front 8th pin to back 9th pin.  Skip the next 2 pins wrapping around the front 12th pin to back 13 and front 14th.  Bring your yarn straight back and around back 14 to front 13 to back 12.  Skip 2 stitches and wrap front 9 to back 8 to front 7.  Lay the green yarn to the left of the back 7 pin and off the board (to set it aside).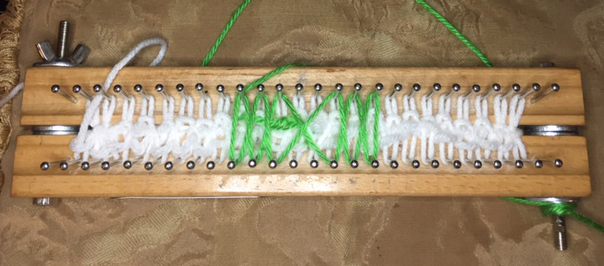 Now wrap the white yarn in the Stockinette stitch as normal, skipping the pins with the green yarn.
Hook over.
Continue wrapping the green yarn then white yarn, following the pattern.  Once completed, you will have a lucky four-leaf clover on both sides of your project.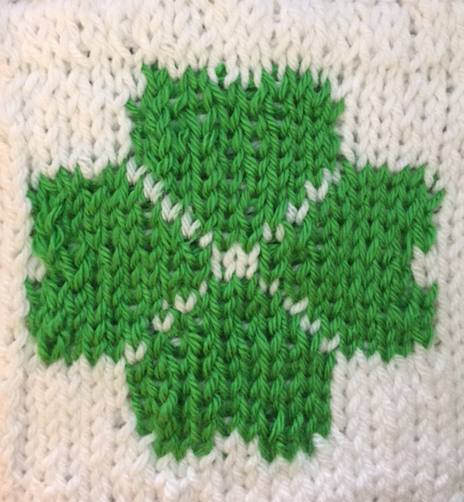 Knit a scarf or dishcloth, blanket or throw with clovers throughout!  You can follow this pattern wherever you would like to add a lucky charm to your favorite project.