Here's an easy, super soft knit top that can be worn with jeans, slacks or cute skirt.  And, not only is it the softest yarn I've ever knitted with, it was so easy to do!.
It's knit in two pieces, exactly the same, using the Rib Stitch and Stockinette Stitch.  The top panel is a simple crochet pattern.  However, if you would prefer not adding the crochet detail, don't fret!  Just continue knitting until the pattern reaches the measurement you desire.
A little about the yarn – I'm not a wool fan – always itches for me.  However, this Superwash Merino is super soft and luxurious feeling when wearing it.  Also, if you do include the crochet portion, once completed, you will need to block that portion to shape it (block this portion before sewing the two pieces together).
Finally, when knitting this, I found that some stitches puckered more and some less (just the way I knit, I guess).  So, once completed, I went ahead and soaked the top in lukewarm water, rolled in a towel to remove excess water and then laid it out to dry.  My stitches all became more uniform but the top did fit a bit more loosely. Since it's wool, I can easily add moisture (squirt with spray bottle) and heat (blow dryer on low) to shrink it up again!
Soft Knit Top
28″ Knittingboard (Using washers to create a 1/4″ gap)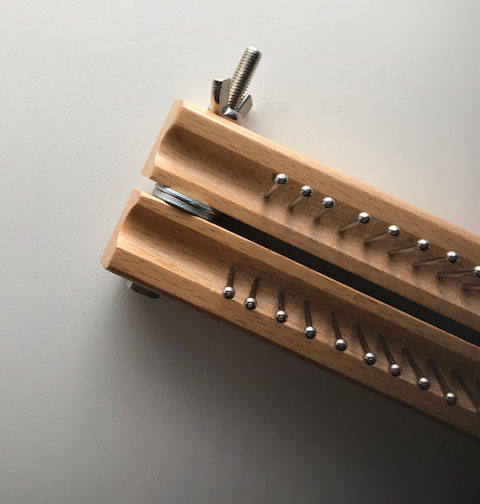 4 skeins Lion Brand Superwash Merino in Hunter
Gauge:  3.5 stitches per inch, 3.75 rows per inch
Top Measurement
Bust:
Small:  33″
Medium:  37″
Large:  42″
Neck to Bottom:
Small:  19″
Medium and Large:  22″
Top is knitted in 2 pieces
Piece One
Cast on 60 (68, 76)
Rib Stitch for 6 rows
Switch to Stockinette Stitch.  Knit until measurement reaches 16″ (19″ for medium and large)
Note:  If you do not want to crochet the next portion, continue to loom knit in Stockinette stitch for 3 more inches.
Bind off.
Crochet Portion
Row 1)  Ch 4, sk 1, DC, *Ch 1, sk 1, DC* to end
Row 2)  Ch4, turn, sk 1, DC, *Ch 1, sk 1, DC* to end
Repeat Rows 1 and 2 two more times.
Knit one more piece.
Once both pieces are completed, whip the stitches working from the outside in 3 inches on each shoulder.
Using the mattress stitch, attach the sides leaving a 9 inch arm hole.
Once completed, wear and enjoy!!