Here's a beautiful blanket made with deliciously-soft Lion Brand Homespun in the Waterfall color.  Easy and quick to make using the Stockinette stitch.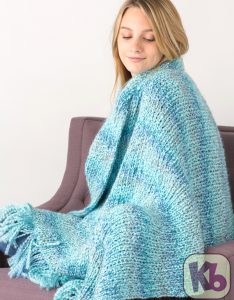 Quiet Moments Blanket
Level:  Easy
Knitting Loom: 28" Knitting Board + extenders , spacer set at 2cm.
Yarn: Approx 925 yards of bulky weight yarn. Sample used Lion Brand Homespun in Waterfall color (5 skeins).
Notions: knitting tool, tapestry needle.
Size:  Approx 45 x 50 inches.
Instructions
Cast on 64 pegs with the basic cast on method.
Continue working in stockinette stitch until item measures 45 inches from cast on edge.
Bind off.
Create 6-inch fringes and add them to the cast on edge and bind off edge. Suggest to add them every other stitch for a fuller fringe effect.
This pattern is courtesy of:  www.knittingboard.com.