Here's a beautiful knit shawl that can easily be made as a scarf, as well. Double-knit in rib stitch, this quick and easy shawl is not only warm and beautiful, it's so soft you'll never want to take it off!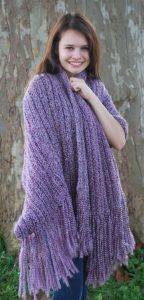 Level:  Easy
Stitch:  Rib
Yarn:  Lion Brand Homespun, Baroque in shades of purple, 8 skeins reserving 1 skein for the fringe.     98% Acrylic and 2% Polyester, 185 yd per skein   (6 oz/169m)
Finished size:  26" X 72" including fringe– Width relaxes to 36" when draped.
Needed:  Knitting Board  28″ (or equivalent loom board),  knit hook, large darning needle, and crochet hook size 8.
Gauge:  2 sts=1"  4 rows=1"
Directions:
Cast On 44 sts (28"KB) using a basic cast on (stockinette).
Work in Rib st until you piece is desired length (sample is aprox 54" before fringe).  This will be aprox 216 rows knit in Rib stitch.
Bind Off in Rib stitch using the crochet hook by lifting 1 loop over 1 loop.  This will maintain the nice stretchy edge to match the cast on edge.
This pattern courtesy of knittingboard.com.  For instructions using the 10″ loom, click here.