Celtic patterns are beautiful, spiral patterns used primarily for decoration.  They can be as intricate or simple knot patterns as your project and your experience requires.  When loom knitting, these patterns make a stunning addition enhancing any project.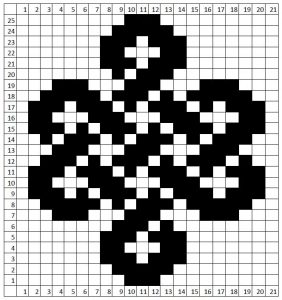 Here's one that looks intricate but is actually quite simple.  Let's get started:
Each block in the pattern represents one stitch. The black blocks represent the black stitches, white blocks are the white stitches.  Viewing the chart above, we will work from bottom up. You'll want to wrap your black yarn first in the row, then follow with wrapping the white yarn.
When starting a project, cast on using the Stockinette stitch, then begin following the pattern.  Hook over after each completed row.  
The example below is shown without the cast-on row, for ease of viewing.
Wrap your board following the diagram, starting with the black yarn:

Now wrap with the white yarn:


Continue wrapping each row following the diagram, skipping white pegs when wrapping the black yarn and filling in the blanks with the white yarn.  Using Row 7 for example:




Using this technique, continue until completed.
Looking for ideas to use simple Celtic patterns on projects?  Here's a very pretty headband created using a Celtic pattern: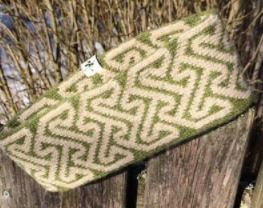 And how about this scarf: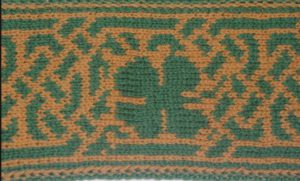 Look for other Celtic pattern graphs by doing a Google search.  There are plenty out there to choose from, from simple to intricate, and all a joy to create!