It's that time of year when we start loom knitting like crazy.  I'm so in love with how this scarf is coming out, I thought I'd share before it's even finished! 
The yarn I'm using is sooo scrumptious!  Lion Brand's Feels Like Butta – 1 skein each of White, Ice, Dusty Blue and Royal Blue.  It has a chenille-like softness – you'll never want to take this scarf off.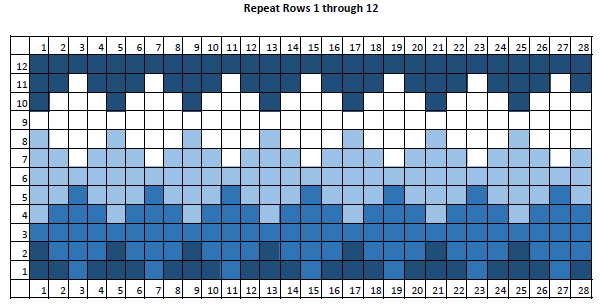 As usual, work from the bottom of the chart up and repeat.  If you haven't had a chance to try multi-color loom knitting, there are plenty of easy patterns to start with here.
As soon as I'm finished with this gorgeous scarf, I'll be sure to post the results.  And this pattern isn't just for scarves, you can easily apply this pattern to a blanket or sweater, just about anything you can think of.  Enjoy!
Happy Looming!