When I created the post for the Houndstooth motif pattern, I fell in love with it.  So much so, I decided I wanted a cute clutch in that pattern to go along with a pretty dark suit I wear.
Here's what I came up with.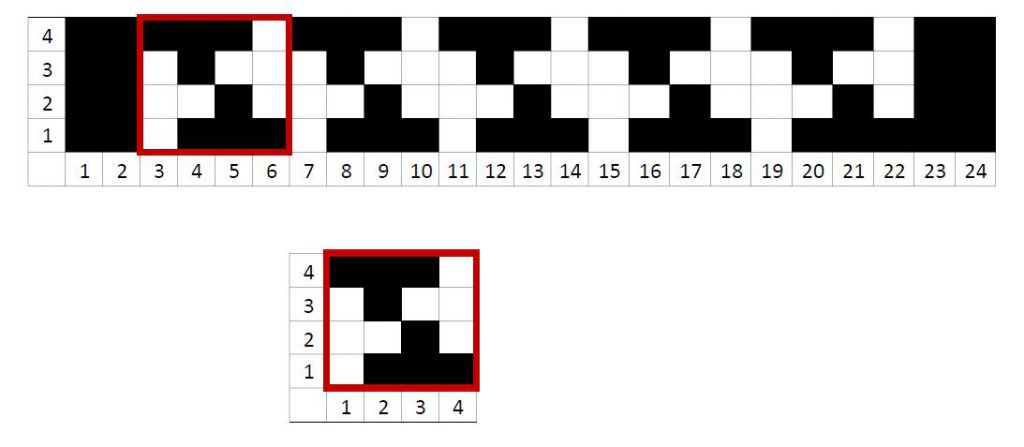 Download the graph here.
This pattern is a repeated block of 4 stitches and 4 rows.
Each block in the pattern represents one stitch.  The black blocks represent the black stitches, white blocks are the white stitches. Viewing the chart above, we will work from bottom up.  You'll want to wrap your black yarn first in the row, then follow with wrapping the white yarn.
When starting a project, cast on using the Stockinette stitch, then begin following the pattern. Hook over after each completed row.
For more detailed instructions on wrapping the Houndstooth pattern, check out the instructions here.
Instructions
To create the Houndstooth clutch, cast on using the Stockinette stitch.
Knit 2 rows in black.
Switch to the Houndstooth pattern as shown in the graph.  Continue working for 14″.  Switch to black yarn and continue knitting in Stockinette stitch for 2″.  Bind off.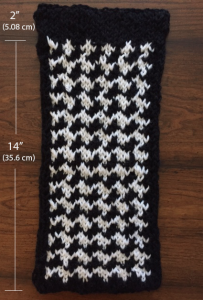 Once completed, fold the bottom half up 5″.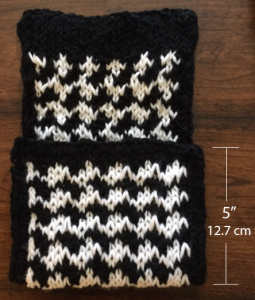 Sew each side of the 5″ section.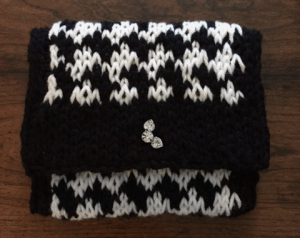 Your clutch is complete.  You can sew a lining into the clutch, if you'd like, but the clutch is quite thick so you don't really need to.
I attached a cute rhinestone earring to the front to give it a little pizzaz.
Enjoy!