What a darling little sweater to make for the little one in your life!  Another cute pattern from Knittingboard.
You'll love making this little sweater – it has a bit of everything if you are new to double-knit loom knitting.  A little bit of decreasing to create armholes, a touch of cabling at the neck, a mixture of rib (or Crisscross stitch, take your pick), all to help you get your feet wet before starting on a larger project with the same type of detailing.  Check out this easy pattern on Knittingboard here.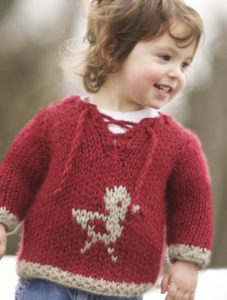 Don't you just want to kiss those pudgy cheeks??
Happy Looming!