I'm going through a blue phase and when I saw this Afghan Pattern, I had to share. Nautical patterns are all the rage these days so this baby fits right in. Plus, this double-knit loom pattern has all my favorite things:  Shades of blue! Circles! Stripes! Stockinette stitch (which equals quick)!  
I found this pretty Afghan pattern buried in the pages of knittingboard.com's blog.
Sea Waves Afghan
Knit in fun colors with stripes and large circles giving lots of colorful variations just like gentle waves. This afghan is knit in three pieces and sewn together matching the stripes so that it looks to be in 1 large piece.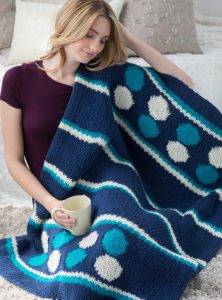 Size: 34″ x 44″
Loom: 28" Knitting Board + extenders, set up in double knit with 2cm spacing
Stitches: Stockinette
Yarn: Patons Shetland Chunky, 75% Acrylic and 25% Wool. Wash in warm water and lay flat to dry. Total 14 skeins
Color Main yarn is Med Blue (B), 8 skeins. Accent Color #1 is Peacock (P), 3 skeins, Accent color #2 is Aran Tweed (A), 3 skeins
Notions Needed: Knit hook, crochet hook, measure tape, large darning needle for sewing
Gauge: 3 Sts X 4 Rows=1 inch
Instructions:
Center Section is worked on full width of loom or 62 stitches.
Cast On 62 stitches in Stockinette with main color yarn (B). Lay anchor yarn.
Work 10 rows in Stockinette stitch.
Tie on (P) yarn at 3rd stitch in center of loom. You can leave the (B) yarn attached as the stripes are only 5 rows.
Work (3) rows in Stockinette in (P) yarn. Cut with 3" tail.
Tie on (A) yarn at 3rd stitch in center of loom and tie it also to tail of (P) yarn. Lay tails inside between the pegs.
Work 2 rows in Stockinette. Cut and tie on to main yarn (B). Continue working with main yarn for 2 additional rows.
Begin the circles. You can follow the diagram row by row to work the circle rows.
Explanation of circle rows: Each circle will be 10 sts wide at widest point and 10 rows at widest point. Each side edge (B) will be 5 sts with 4 stitches between the circles at widest point. We used a separate strand of yarn for the 4 circles, so tie on a separate skein for each circle. We carried the main yarn thru the circles maintaining Stockinette weave. This will give the afghan more stretch in this area. Work the color sts in Stockinette also.
Cut and tie off each accent color yarn.
Work 1 row with (B) yarn.
Repeat the circle rows by tying on the accent colors, but use the accent colors in opposite locations to have the colors alternating.
Cut and tie off each accent color yarn.
Work (2) rows with (B) yarn.
Tie on (P) yarn at 3rd st and work 2 rows. Cut and knot.
Tie on (A) yarn at 3rd st and work 3 rows. Cut and knot.
**Work 20 rows with (B) yarn.
**Repeat the stripe rows using both accent colors, for 5 rows, 2 (P) and 3 (A).
Repeat the ** rows 2 additional times ending with the 5 rows of stripes. Tie off the accent colors.
Work 2 rows (B) yarn.
Repeat the entire section of Circles.
Work 2 rows (B) yarn.
Work 2 rows (A) yarn
Work 3 rows (P) yarn.
Work 10 rows with (B) yarn. Cut yarn leaving a 3" yarn tail.
Bind Off with 2 loop method using crochet hook. Start at end opposite the yarn tail. Once afghan is off loom, knot last loop using the yarn tail.
Bind Off at anchor yarn with 2 loop method. Knot by pulling yarn tail thru last loop. You can tuck in any yarn tails into the afghan with crochet hook.
Side panels are knit to widen the size of the afghan. Be sure to follow the accent colors of the stripes so that they match when sewn together. The outer edges also have been knit with a placket edge to give a nice feel to the balance of the afghan once complete.
Placket edge: This means that the first 4 stitches of the beginning edge will be doubled. To do this, weave in Stockinette on first 4 sts and return to beginning. Do not hook over. Now weave the entire piece, row 1, in Stockinette weaving back to the beginning. The first 4 sts will have 4 loops on them while all others have 2 loops. Now hook over the entire row. Lift 2 over 2, leaving these 4 sts with 2 loops and all others with just 1 loop. (The first cast on row will have just 3 loops on the first 4 sts. Lift 1 over 2.)
Side panels: (knit 2, 1 with placket on first 4 sts and 1 with placket on last 4 sts)
Cast on 16 sts. Lay anchor yarn.
Be sure to mirror the amount of rows and colors as on the center section.
Left side panel: Work placket on left edge. Work 10 rows (B), 3 (P), 2 (A), 25 (B), 2 (P), 3 (A), 20 (B), 2 (P), 3 (A), 20 (B), 3 (A), 2 (P), 20 (B), 3 (A),2 (P), 25 (B), 2 (A), 3 (P), 10 (B).
Right side panel: Same except do placket on right edge.
Lay out the sections to confirm that all stripes match. Do a whip stitch at each stripe to maintain the spacing. Using a large eyed darning needle and (B) yarn, sew the side sections to the center section. Be sure to do this with the invisible stitch by picking up the cross stitches on each edge. This lays in the center of the knitted edge. Once complete, you will not be able to find the seams. You can remove the whip stitch as you come to them, as they are not needed once the pieces are sewn with the invisible stitch. Tuck in any remaining yarn tails into knit for a finished afghan.