Well, it all started while picking lemons from my lemon tree. Lemons, lemons! What a great idea for a dish cloth! Since then, I've transformed my 1950's green-tiled kitchen into a lemon-themed heaven. But I digress.
This lovely dish cloth was so fun to design and loom knit. I used Lion Brand's 24/7 Cotton yarn in White, Grass and Lemon double-loom knitted on a 28″ loom. My dish cloth came out to 12″ x 17″ but, of course, you can easily make it smaller (or larger, if you have a lot of dishes).
Here is just a glimpse of the chart. You can download the full chart here. Keep in mind, it's four pages so you'll need tape them together for the full chart.

Have fun with this darling project!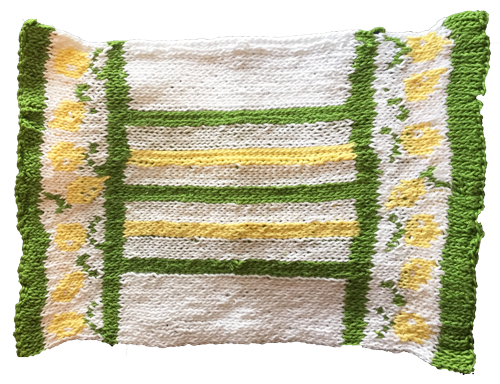 Happy Looming!