Here is a great free pattern of five designs for dishcloths.  They are all quick and a great way to learn new stitches and techniques.  You can get the free pattern at Ravelry here.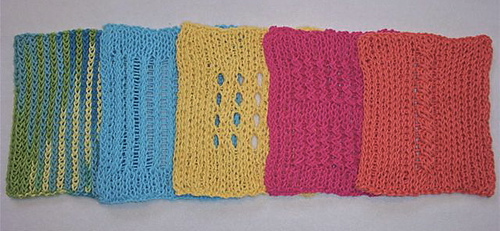 Level:  East to more advanced
Knitting Loom:  Small gauge double-sided knitting board with at least 22 pegs set at standard 1/2″ spacer setting.
Yarn:  1+ ounce of worsted weight 100% cotton yarn, such as Sugar 'n Cream and Lily Elite Cotton
Instructions:
Download pattern here.
For a look at all of Faith Schmidt's patterns, check out Faith Schmidt Designs.