What a beautifully warm and chic head wrap which we found at favecrafts.com.  So easy to loom knit with many variation choices just by changing up the yarn or size, it can be knit up in a matter of hours.
This charming wrap is knit in Stockinette Stitch, and consists of two triangles. It's the yarn that gives it the wonderful, swirly edges.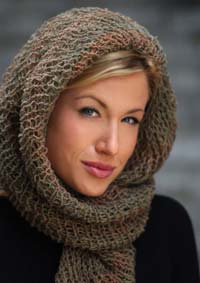 Level: Easy
Yarn: Rowan Donegal lambswool-100% pure new wool, (5) skeins at 25 grams each. (This particular brand of yarn has been discontinued but you can find similar substitutes here.)
Knitting Loom:  28″ Knitting Board using spacers at 1-1/4" spacing
Gauge: 2.5 stitches=1"
This scarf/shawl will flow best if you keep your tension loose and your decrease snug.
Instructions:
(Knit 2 Triangles)
Cast on (72) stitches. Place thick yarn for anchor yarn.
Decrease (1) stitch at beginning of every row on both boards, beginning of rows only. Do not decrease on back end of board.
Continue this for (60) rows.
You now have (12) stitches remaining on board.
Decrease (2) stitches at beginning of next row.
Continue this decrease until you have just (2) stitches remaining. Bind Off.
Leave approximately 26" of yarn on piece for sewing.
Loosely crochet all stitches off anchor yarn. Remove anchor yarn by gently pulling from the knitting.
Finishing:
With short sides together, use end of yarn to loosely sew pieces together. A whip stitch will create the softest joint without any seam lines.
Variations:
To make a longer shawl that will drape nicely to hip, you will knit more rows.
Change the Decrease: Decrease (1) stitch at beginning of (2) rows.
Knit one regular row with no decrease.
Repeat these (3) rows until you have knit a total of (90) rows.
You now have (30) stitches on board.
Decrease every row until you have (2) stitches remaining. Bind Off.