Double-Knit Loom Eyelet Sleeveless Top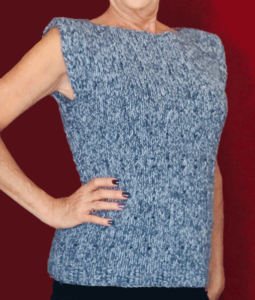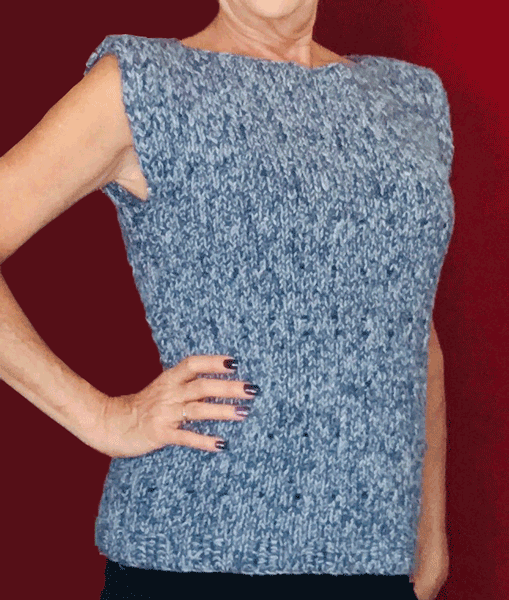 Level:  Easy
When I saw this darling eyelet sleeveless top on Mama In A Stitch's page, I had to convert this pattern to the double-knit loom.
Easy Knit Pillow Cover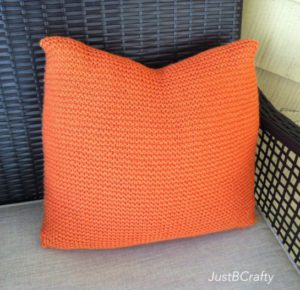 Level:  Easy
I was looking for an easy knit pillow cover pattern that I could create some great throw pillows in fall colors.  I found this super easy, traditional knit pattern that is just as easy to do on the double-knit loom.
Sea Breeze Knit Sweater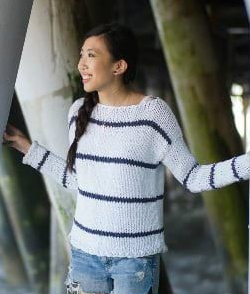 Level:  Easy
How about this super cute, super-easy sweater I found on www.allaboutami.com?  Straight up Stockinette stitch, no increase or decrease.  Perfect for our Indian summer days coming up or any time of the year you want to surround yourself with that sea breeze comfy feeling.
Super Soft Knit Top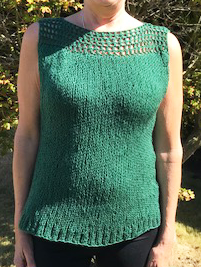 Level:  Easy
Here's an easy, super soft knit top that can be worn with jeans, slacks or cute skirt.  And, not only is it the softest yarn I've ever knitted with, it was so easy to do!
Double-Knit Loom Slippers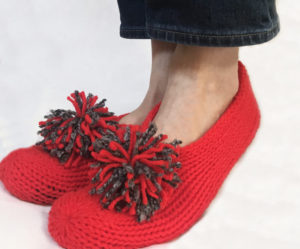 Level:  Easy
I was so happy to discover this slipper pattern on my favorite site, knittingboard.com.  Not only easy but cleverly double-soled, as well.  Check it out!
Comfy, Oversized Sweater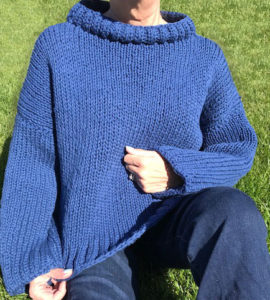 Level:  Easy
Finding clothing patterns for double-knit loom knitting can be challenging.  However, I am completely up to the challenge!  Our first clothing pattern is this deliciously comfy, loose and warm sweater. 
Beautiful Aran Baby Blanket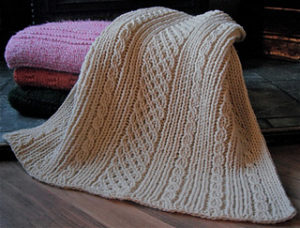 Level:  Moderate
Ready for a challenge?  How about this beautiful Aran Baby Blanket  by Faith Schmidt.  A great way to practice cables with a gorgeous result.
Soft Tweed Poncho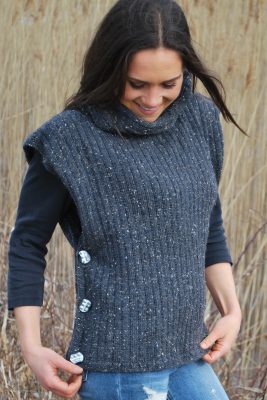 Level:  Easy
In my never-ending quest of apparel patterns for double-knit looming, I just had to share this super-soft and easy-to-make poncho I found on Knittingboard.com. 
Tea Time Mug Rug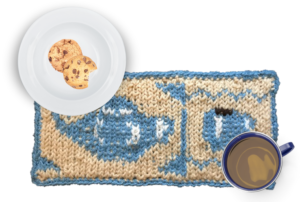 Level:  Easy to Intermediate
During my quilting phase, I made a few mug rugs – little place mats to use while having a cuppa and a snack.  So, why not double-knit loom knit one?
Bunnies for Spring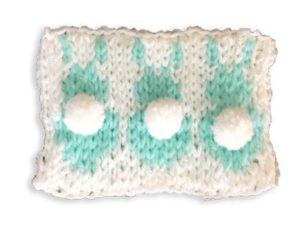 Level:  Easy
Spring is coming!  I can feel it.  Or maybe it's just wishful thinking.  How about adding these darling bunnies to your spring project!  Double-knit loom knitting these little bunnies is a breeze.
Fair Isle Scarf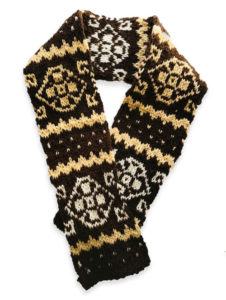 Level:  Moderate
Here's a great example of a Fair Isle color chart I found.  I created this beautiful, masculine scarf using Loops & Threads Impeccable Yarn in Chocolate, Heather and White using a 10-inch Knittingboard loom.
Heart Purl and Knit Afghan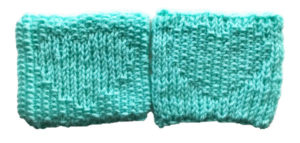 Level:  Easy
When I saw this traditional knitted purl and knit heart afghan, I was inspired to create the same blocks using the double-knit loom.
Heart Purse for Our Little Valentine

Level:  Easy
A super-soft and cozy heart purse for your favorite little Valentine!
Delicate Eyelets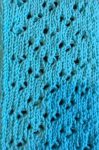 Level:  Easy
Creating beautiful eyelet projects in double-knit loom knitting is easy and oh-so-pretty!  Here's a pretty little project that is actually quick to knit up.
Cute Elephant for The Baby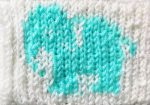 Level:  Easy to Intermediate
Blue elephants (I tried pink but it didn't show up well in the photo) invading your baby blanket! 
Braided Headband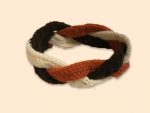 Level:  Easy
How cute is this braided headband?  So easy to make and you can easily increase the pattern to create a really special scarf.
Some Winter Cheer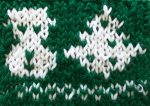 Level:  Easy to Intermediate
Here's a holiday color block pattern to add to your projects.  A cute coaster, dishcloth, scarf, tabletop – have fun!
The Joy of Christmas in a Little Block Pattern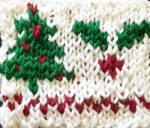 Level:  Easy to Intermediate
Here's a fun little multi-color pattern you can add to any little holiday project.
Autumn Coasters Part Deux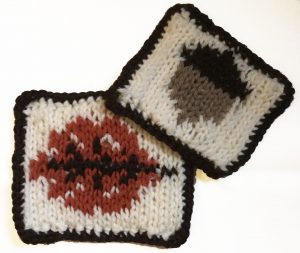 Level:  Easy to Intermediate
Two Autumn coasters to add to the collection.
Autumn Coasters Part 1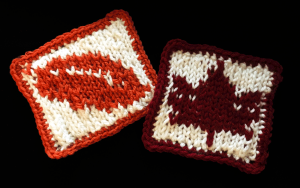 Level:  Easy to Intermediate
Looking for some quick double-knit loom projects to make?  Here are a couple of fall-inspired coasters that you can whip out in no time.
Pretty and Lacy Double-Knit Shawl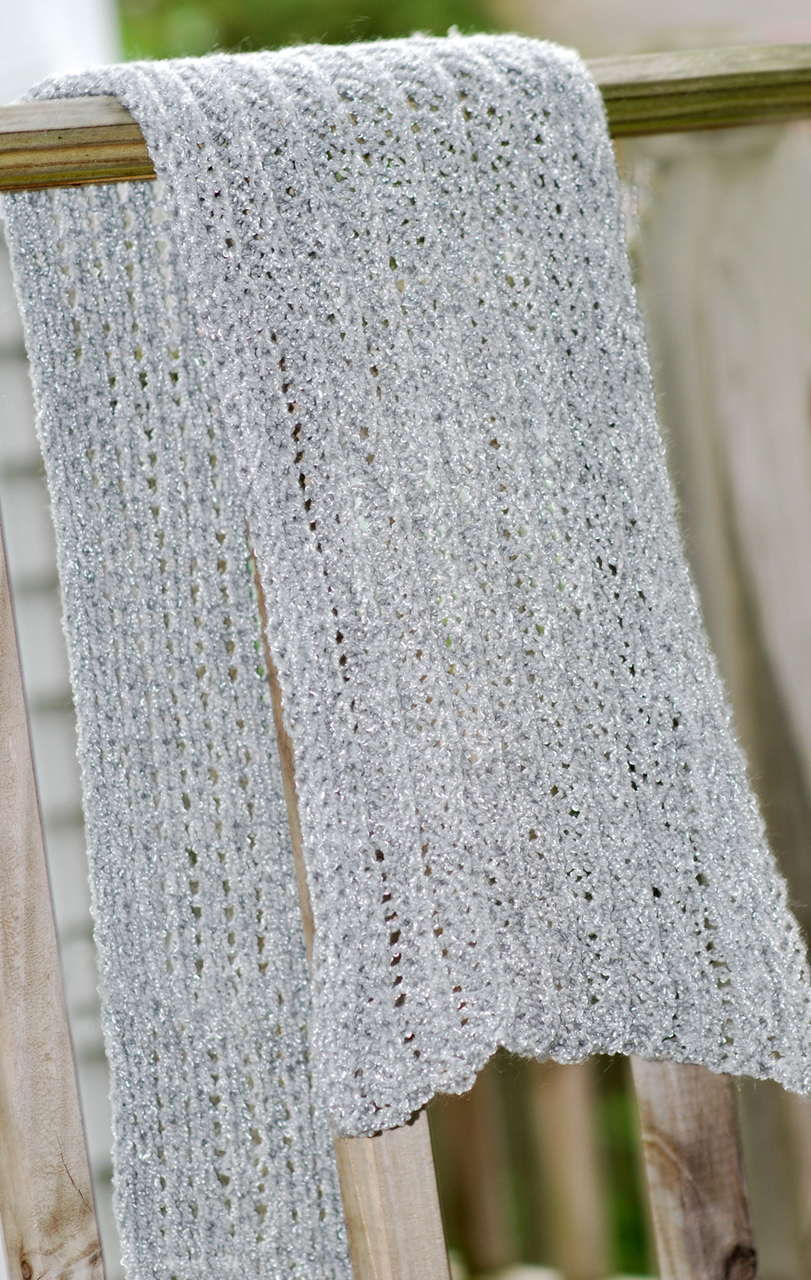 Level:  Easy
Have you found super soft yarn or perhaps that sparkly yarn you weren't sure what to do with?  Here's a great pattern for you!
Keep Warm With This Easy Sweater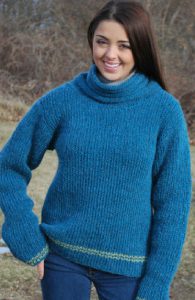 Level:  Easy
Watching football while a roaring fire warms us during this cool Sunday, my thoughts went straight to this pretty, easy-to-create sweater. 
Happy Little Pumpkin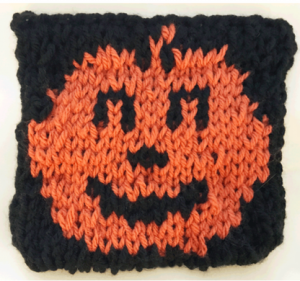 In keeping with our fall and Halloween theme, I had to complement our cute Scary Cat pattern with this happy little pumpkin!
Level:  Easy
Scary Cat Halloween-Style

Boo!  With Fall here and Halloween coming, how about adding this cute, scary cat (Can scary be cute?  Of course it can!) to your project! 
Level:  Easy
Who Says We Can't Knit a Quilt!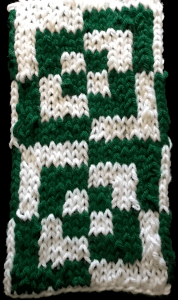 Among the many crafts I've dipped my hands in, quilting is another favorite.  So what would happen if I melded quilting and double-knit loom knitting?  I designed a simple block and here's what I came up with.
Level:  Easy to Intermediate
Pretty in Pink Vest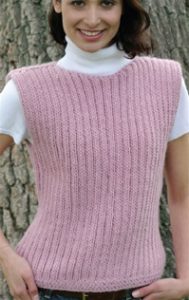 As you know, I'm always searching for double-knit loom patterns beyond the standard hat/scarf patterns we see so often. Perfect for fall, here is a darling knit vest pattern – pretty in pink but any color will do!
Level:  Easy
Get Hooked on This Little Bag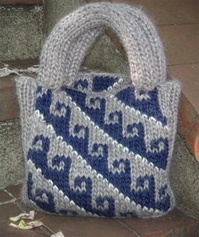 How cute is this Hook Design Bag I found on the Knittingboard Pattern page?
Level:  Easy to Intermediate
Bring The Sea Home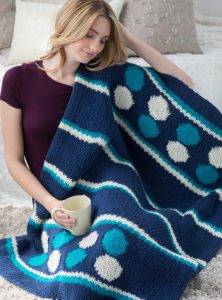 I'm going through a blue phase and when I saw this Afghan Pattern, I had to share. Nautical patterns are all the rage these days so this baby fits right in. Plus, this double-knit loom pattern has all my favorite things: Shades of blue! Circles! Stripes! Stockinette stitch (which equals quick)! 
Level:  Easy to Intermediate
Multi-Color Scarf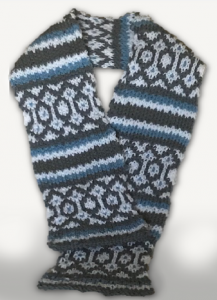 Here we have a multi-color scarf that was a joy to create. Really, I loved every minute of this project.  Surprisingly, (maybe because I loved making it so much), it was pretty quick to make.
Level:  Easy to Intermediate
Basic Shrug Pattern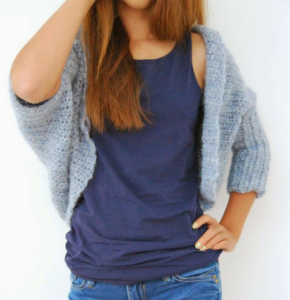 Since double-knit patterns are so hard to find, when I find one I have to share!  This one comes from Echstudio in the Netherlands.  Thanks to the simplicity of this pattern (and Google Translate!), here is a wonderfully simple-to-make shrug that you can double-knit loom, traditional knit or crochet with ease.
Level:  Easy
The Celtic Knot Pattern
Celtic patterns are beautiful, spiral patterns used primarily for decoration.  They can be as intricate or simple knot patterns as your project and your experience requires.  When loom knitting, these patterns make a stunning addition enhancing any project.
Level:  Easy to Intermediate
Classically Chic Houndstooth Clutch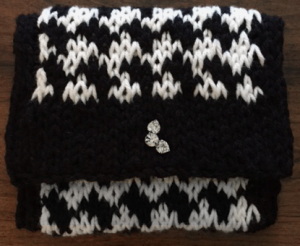 When I created the post for the Houndstooth motif pattern, I fell in love with it.  So much so, I decided I wanted a cute clutch in that pattern to go along with a pretty dark suit I wear.
Level:  Easy to Intermediate
2-Color Motifs to Add to Your Projects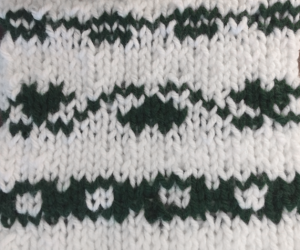 Double-Knit looming makes it so easy to add color motifs.  Have you ever wanted to add a border or motif to your project but not quite sure how to wrap your loom?  Here are three motifs with wrap instructions and photos for each.  Have fun creating!
Level:  Easy
Shhh…No One Needs To Know How Easy This Houndstooth Pattern Actually Is!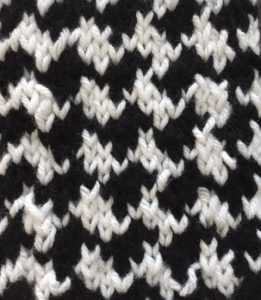 A little designer flair can take any project up a notch (or two!)  Houndstooth gives a stylish and elegant look to every project, whether a scarf, sweater, handbag or clutch.  The beauty of this fabulous double-knit loom pattern?  So easy to create when you know how!
Level:  Easy to Intermediate
Add a Little Chic to Your Wardrobe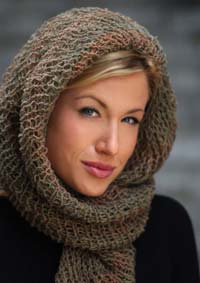 What a beautifully warm and chic head wrap which we found at favecrafts.com.  So easy to loom knit with many variation choices just by changing up the yarn or size, it can be knit up in a matter of hours.
Level:  Easy
Country Charm Checkered Dish Cloth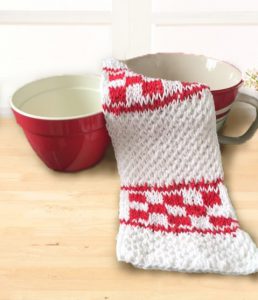 Bring a little country charm to your kitchen with this checkered dish cloth pattern!
Level:  Easy to Intermediate
Create a Little Luck With This Easy Clover Pattern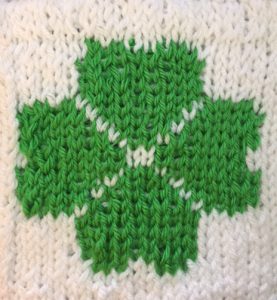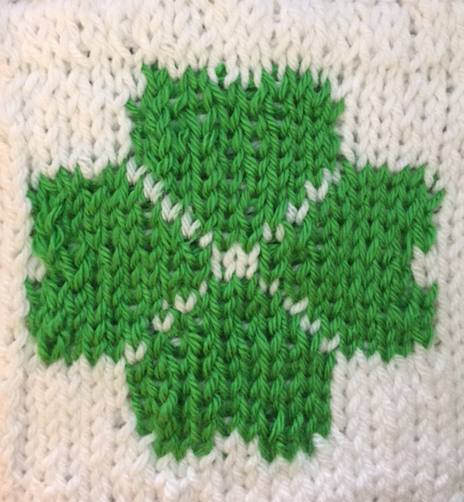 Bring a little luck into your projects by adding this darling four-leaf clover design.  One of the greatest benefits of double-knit loom knitting is the ability to add beautiful designs easily to any project.  So, let's get started!
Level:  Easy to Intermediate
Wrap Yourself in Luxurious Chenille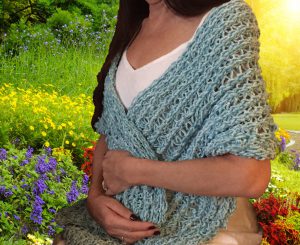 What do you get when you find the most delicious, luxurious chenille yarn on clearance and the Star Stitch for the double-knit loom?  You get this pretty, lacy, unbelievably soft and surprisingly warm wrap. 
Level:  Easy
An Easy-Step Guide to Create a Fun Heart Pattern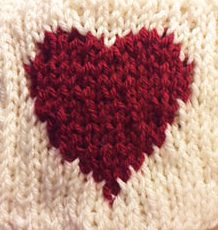 Most people think that to create a fun double-knit heart pattern, you have to be an expert loom knitter. But that's not true.  Creating a project using a pattern is much easier than you think.  Let's take a look!
Level:  Easy
Create a Beautiful Poncho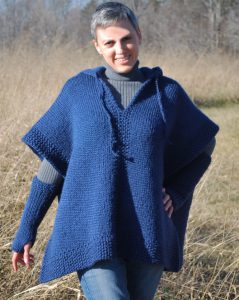 Most people think that to create a beautiful poncho, you have to be an expert loom knitter. But that's not true!  Check out this fabulous and easy double-knit poncho pattern from Knittingboard.com.
Level:  Easy
Sundance Pullover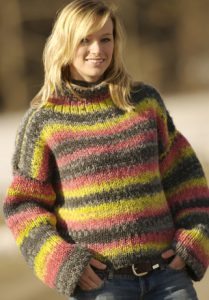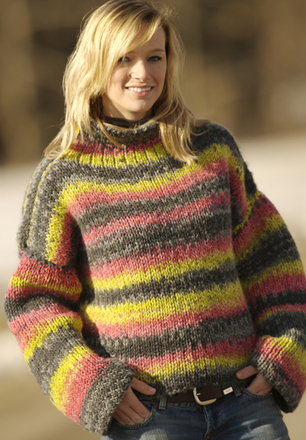 Talk about comfy!  Here's a delicious and fun pullover that is easy to double-knit loom knit with no color changes and the turtleneck is knit right into the sweater!
Level:  Easy
Claret Cable Scarf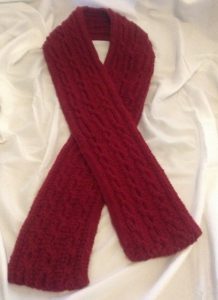 A beautiful and surprisingly easy-to-create cable scarf in rich claret. Perfect for yourself or someone special in time for the holidays.
Level:  Easy to Intermediate
Beautiful Mystic Shawl Brings Ireland To You
Bring a little bit of the Emerald Isle to rest around your shoulders with this lovely shawl.  Easy to loom knit in the Open Braid Stitch with soft stripes.
Level:  Easy
Double-Loom Knit Dishcloths by Faith Schmidt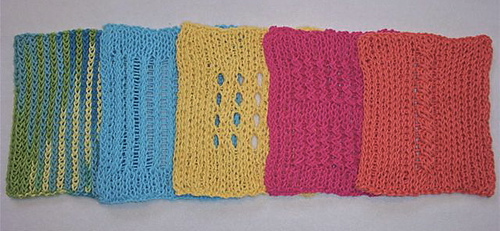 Here is a great free pattern of five designs for dishcloths.  They are all quick and a great way to learn new stitches and techniques.
Level:  Easy to more advanced
Quiet Moments Blanket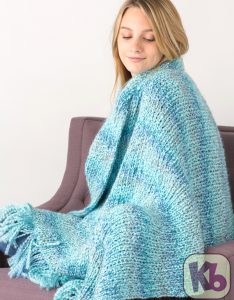 Here's a beautiful blanket made with deliciously-soft Lion Brand Homespun in the Waterfall color.  Easy and quick to make using the Stockinette stitch.
Level:  Easy
Double-Knit Ribbed Shawl
Here's a beautiful knit shawl that can easily be made as a scarf, as well.  Double-knit in rib stitch, this is a quick and easy shawl that is not only warm and beautiful, it is so soft you'll never want to take it…
Level:  Easy
Uptown Tote Bag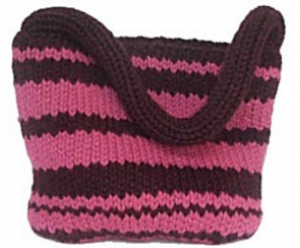 Cute, easy and quick, you'll love this double-knit tote for all these reasons, and more.  Loom knit using the stockinentte stitch, you can easily change the colors to suit your personal style!
Level:  Easy